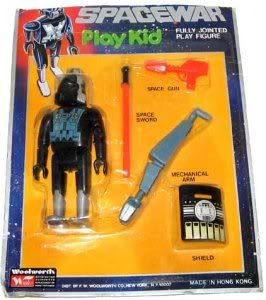 The Darth Vader-inspired piece of crap
that I had to play with as a kid. Nice mechanical
arm, shield and laser pistol.....check the "Space Sword".
Yes, I had to get these lame knockoffs
(Darth, Chewie.....maybe others) LONG before
finally getting an actual fucking Stormtrooper!
I had my stepdad SCREW the stormtroopers leg back on after an especially brutal round of play...that was my only stormtrooper until the EMPIRE STRIKES BACK snow trooper.....now that was a REAL action figure!